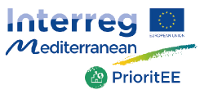 On 22 and 23 February 2017, the kick off meeting and the launching event of the PrioritEE European project titled «Prioritize energy efficiency measures in public buildings: a decision support tool for regional and local public authorities» were organized by the project coordinator CNR-IMAA, in Rome. All project partners participated to this first project event.
PrioritEE benefits from the European Community funding within the «1st call for Modular projects» of the transnational European Cooperation Programme for the Mediterranean area, the «Interreg MED programme 2014-2020». 
The aim of the project is to enhance the policy making and strategic planning competences of local and regional public authorities in the energy management of public buildings in five Mediterranean countries: Italy, Portugal, Spain, Greece and Croatia. In particular, it will develop a toolbox to promote EE and use of RES in municipal public buildings and to prioritize municipal investments, define and prepare 5 pilot activities in each region involved in the project, test the toolbox in these regions and finally gather and review the experience from each one.
The project starts in February 2017 and will last until July 2019 and addresses authorities responsible to define, develop, implement and monitor sustainable energy policies and plans at municipal level in target regions as well as energy agencies, environmental agencies, development agencies, utility companies, building managers in charge of public buildings maintenance, regional, national and international networks and associations, and others.
It is coordinated by National Research Council of Italy - Institute of Methodologies for Environmental Analysis CNR-IMAA 
and involves 9 more European partners:
• Faculty of Science and Technology FCT-UNL (PT)
• Centre for Renewable Energy Sources and Saving – CRES (EL)
• Lucanian Energy Society - SEL (IT)
• North West Croatia Regional Energy Agency – REGEA (HR)
• University of Zaragoza – UNIZAR (ES) 
• Regional Development Agency of Western Macedonia SA - ANKO (EL)
• Leziria do Tejo Intermunicipal Community (PT)
• City of Karlovac (HR)
• Provincial Council of Teruel – DPT (ES)
As associated partners also participate:
• Regional Energy and Environment Agency from North Alentejo (PT)
• Energy Efficiency Cluster of Aragon (ES)
• Municipality of Potenza (IT)
The main benefits that arise from PrioritEE for the local/regional partners involved is their increased capacity to implement energy efficiency measures in public buildings, to manage and monitor their energy consumption as well as to support the implementation of local action plans to reduce energy consumption of Municipal public buildings.
For further information regarding PrioritEE project and its activities, please contact:
Dr. Monica Salvia, project coordinator
CNR-IMAA
Consiglio Nazionale delle Ricerche
Istituto di Metodologie per l'Analisi Ambientale C.da S.Loja, 85050 Tito Scalo (PZ), Italia
Tel. +39-0971-427207
Fax +39-0971-427271
E-mail: This email address is being protected from spambots. You need JavaScript enabled to view it.